12 Rounds with Lucic
Welcome to the Pregame Skate, a Five Minute Major Upgrade to Your Inbox
🧰 Trade Tracker: July 1st is moving day in the NHL off season, as it's the first day that players officially become free agents. Players cannot be formally signed until 12 p.m. EST, but so far the Stars have reportedly inked two veteran forwards, while the Predators have locked in Matt Duchene on a long term deal.
🚨Stay up to date on all the signings by following TSN's Bob McKenzie on Twitter.
📄Team-by-Team list of Unrestricted and Restricted Free Agents
12 Rounds with Lucic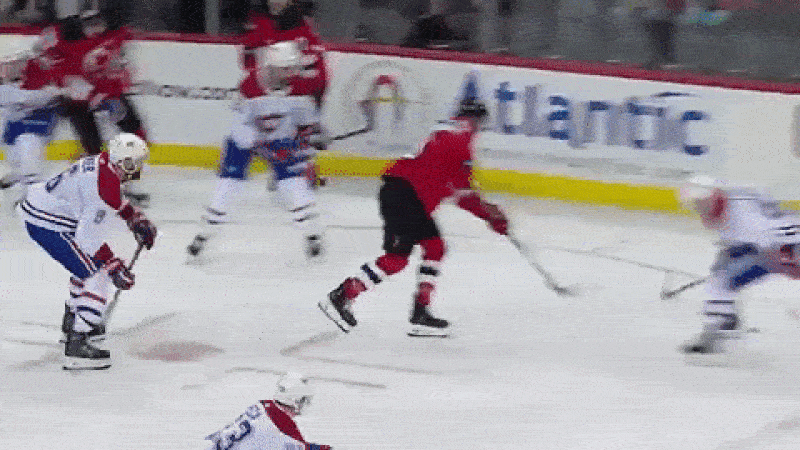 ICYMI: Thanks to all the subscribers who tuned in for our fourth LIVE conference call with New Jersey Devils forward Kurtis Gabriel on Saturday. Kurtis was joined by Matty Gaffney from the New York City Gay Hockey Association, and we discussed a number of topics, from Kurtis' use of Pride Tape to score his game winning goal against the Canadians (shown above) to what it's like to bounce between the NHL and the AHL.
Highlight: Kurtis spoke about this epic battle with Milan Lucic, and he did a wonderful job of explaining why he takes so much pride in his role as an enforcer. Anyone out there wondering why fighting is still a part of hockey should give this call a listen—we will send the full recording out to paid subscribers this week.
Pride Month: The call came at a good time, as Kurtis had just participated in Toronto's Pride Parade the weekend prior, and Matty was gearing up for New York City's which took place yesterday. We donated all proceeds from new subscribers to the "You Can Play" project and the New York City Gay Hockey Association—Good News, we are extending this through next Monday, June 8th, so feel free to share this newsletter with friends and coworkers as we all join in to contribute to this important cause.
Golf and Hot Dogs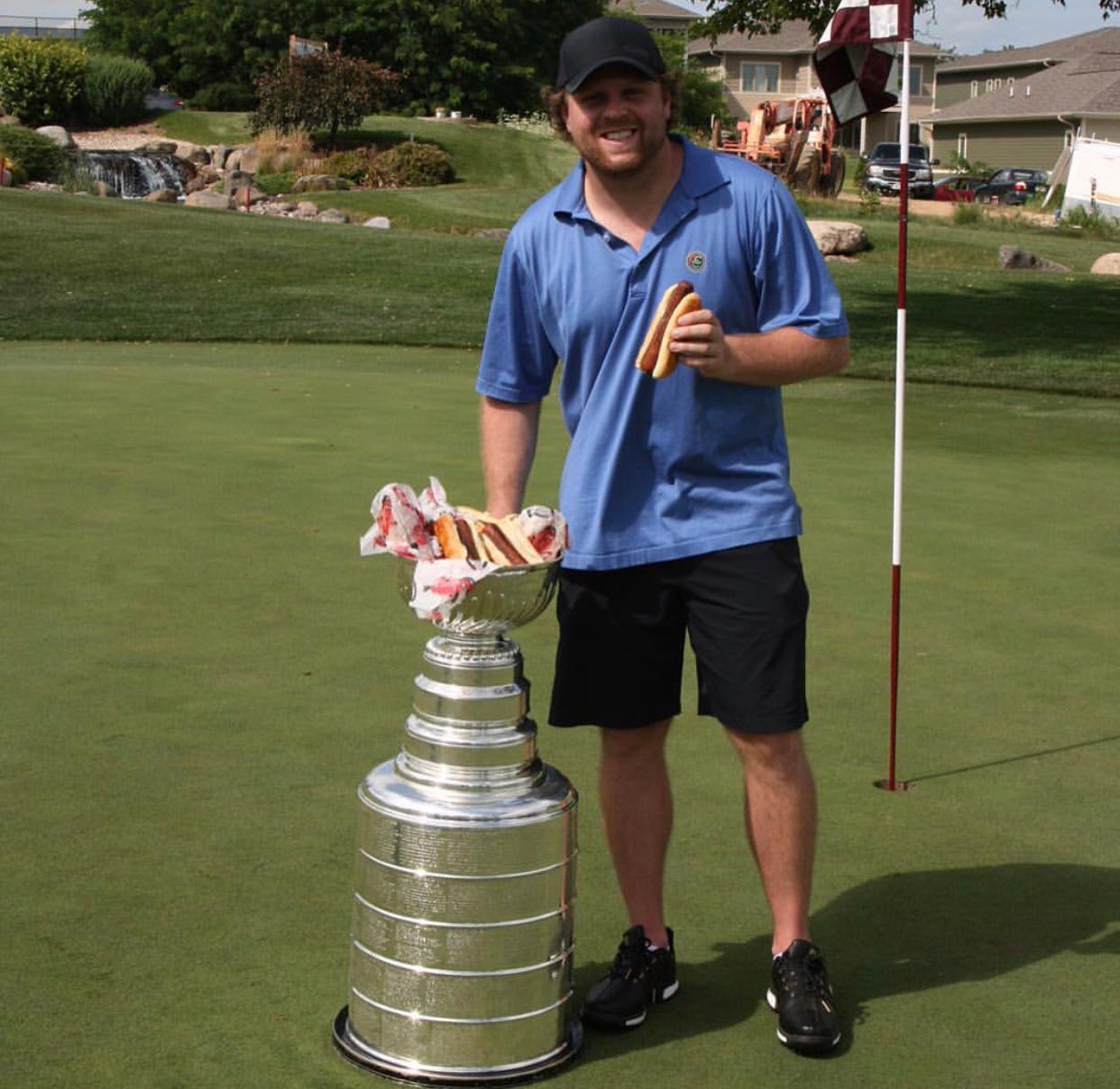 (Phil_kessel_81_) Phil Kessel celebrated his 2017 Stanley Cup victory in style.
---
What's Happening: Like we said, no signings have been made "official," but so far we are hearing that a couple goaltenders have made their decisions already. TSN's Frank Seravalli reported that Mike Smith will sign in Edmonton, and Cam Talbot will take his place in Calgary. Sergei Bobrovsky is still expected to sign with the Panthers, although nothing has been made official.
In other news, Mats Zuccarello is set to head to Minnesota along with Ryan Hartman, and Andrew Shaw is going back to Chicago in a trade for draft picks. Jason Spezza is expected to sign with his hometown team, Toronto, and the Canucks have reportedly grabbed defenseman Tyler Myers for the next five years.
Prior to today's free agent frenzy, the Penguins sent Phil Kessel to the Coyotes over the weekend in exchange for Alex Galchenyuk. According to Penguins GM Jim Rutherford, Kessel requested a trade numerous times last year and even expressed interest in Arizona specifically because of an existing relationship with Yotes coach Rick Tocchet.
🌭: Golf and hot dogs; that's what Arizona does. There's obviously more to the Grand Canyon State than that, but Kessel will have access to a plethora of golf courses and a special Arizona hot dog known as the Sonoran, which comes wrapped in bacon and topped with a cast of Mexican condiments. Based on the picture above, we think he'll be a happy camper.
More on what this trade means on the ice…
Brotherly Love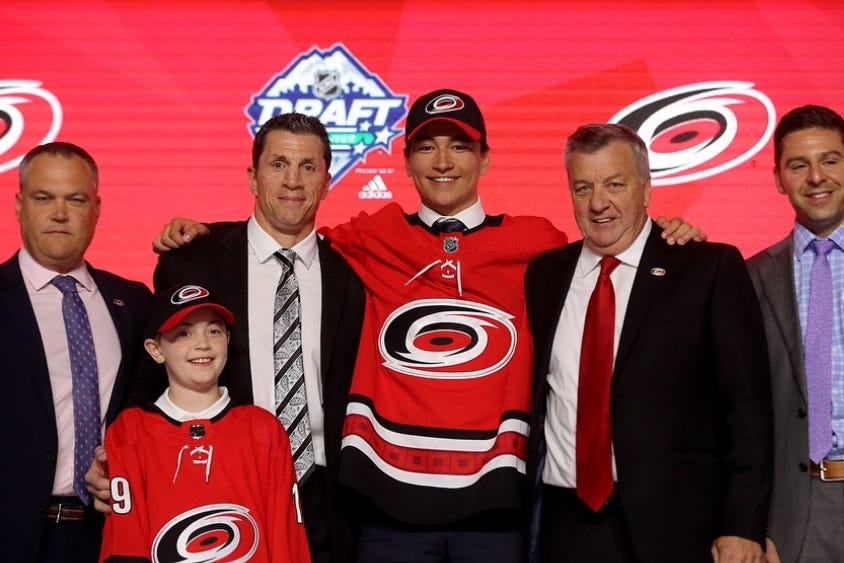 (@ryansuzuki6)
---
What's Happening: As hockey continues to grow in Asia with the addition of professional teams in China and South Korea, the young talent pool of players from the massive continent is impacting the NHL draft. 2019 marked the third straight year that a player of Asian descent was drafted in the first two rounds, and as you'll see, it has been a family affair.
Tell Me More: In 2017, Nick Suzuki made a splash in the first round when he was selected by the Golden Knights. Jason Robertson, whose mother Mercedes was born in the Philippines, followed him up in the second round. Jett Woo kept the streak going in 2018 before this year when another Suzuki AND Robertson would show up on the draft board.
Enter the 2019 draft—Nick's younger brother Ryan was selected by the Hurricanes 28th overall before Jason Robertson's younger brother Nick later went to the Maple Leafs in the second round.
Crazy right? These two families epitomize the dedicated parents that help pave the way for their athletic children. Mercedes Robertson drove her boys from tournament to tournament around Michigan, and Rob Suzuki, Nick and Ryan's father, became the first in his family to attend college. Bottom line: the kids did the work, but these parents made it possible.
Dig Deeper: Sheng Peng, NBC News
More Links from the Rink