15 Day Increments
Welcome to the Pregame Skate, a Five Minute Major Upgrade to Your Inbox
🥼Dr. Anthony Fauci says the only way sports return this summer is if the games are held without fans. "Nobody comes to the stadium. Put [the players] in big hotels, wherever you want to play, keep them very well surveilled
🇷🇺Former Flames head coach Bill Peters, who resigned following accusations that he used racial slurs, has landed a job in the KHL.
🎤Reminder to mark your calendars for our Quarantine Concert benefiting the ECHL Player Relief fund this Saturday at 7 p.m. EST. Join the Zoom by signing up here. Not sure if you want to join? We bet this video will change your mind.
15 Day Increments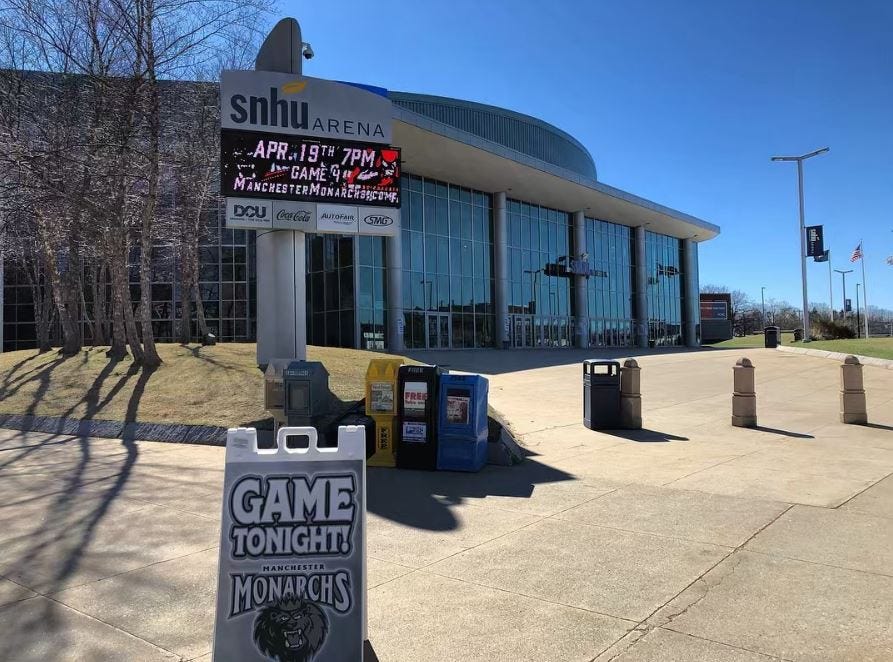 (@monarchshockey) SNHU Arena in Manchester, New Hampshire.
---
What's Happening: The NHL finally officially extended the self quarantine recommendation for players to April 30th, continuing their trend of doing so in 15 day increments.
Tell Me More: ESPN's Emily Kaplan writes that the NHL is still exploring options for post season play. "Cities and venues across North America have reached out to the NHL to pitch themselves as hosts (Grand Forks, North Dakota, and Manchester, New Hampshire, have been two reported potential locations). The postponement of the Tokyo Olympics to 2021 also opens up broadcasting windows for the NHL and its U.S. TV partner, NBC."
What's at Stake: NHL players make the bulk of their money during the regular season, and the owners make theirs back in the playoffs. But here's the thing — the players could lose up to 40% of their paychecks to escrow if the season isn't finished. Basically, both sides stand to lose a large chunk of money if the season is not completed.
One More Thing: The NHL's current deal with NBC is up after next season, and many are asking if it will hurt or help their new TV contract. Shockingly enough, it actually might help, as the COVID-19 backlash could keep people closer to their homes for the foreseeable future.
Did he say November?
What's Happening: TSN's Pierre Lebrun said in a tweet that "the NHL is willing to delay the start of next season until November in order to finish off this season if possible with summer hockey."
He continued by saying "The NHL believes they can play a full season next year starting in November, cancel ASG/bye week, play playoffs into late June '21."
The Bigger Picture: Lebrun still believes the NHL will not complete the season, responding in the comment section saying, "As I keep saying, I personally don't believe there will be a season resumption this year. But passing on what the NHL is thinking."
The Bottom Line: If the NHL takes this route, it will have a ripple effect. The ECHL, for instance, normally starts a month after the NHL. This would mean that these players would not be paid for nearly nine months if their season started a month after the NHL's in December.
More Links from the Rink