Cycling Like a Mad Man
Welcome to the Pregame Skate, a Five Minute Major Upgrade to Your Inbox
🏀Did you know? Michael Jordan used to be a part owner of an NHL team.
🚲Cycling Like a Mad Man: Colorado Avalanche goaltender Phillip Grubauer says he's spending his "time off" cycling 100 miles a day. Keep reading…
Agents and Endorsements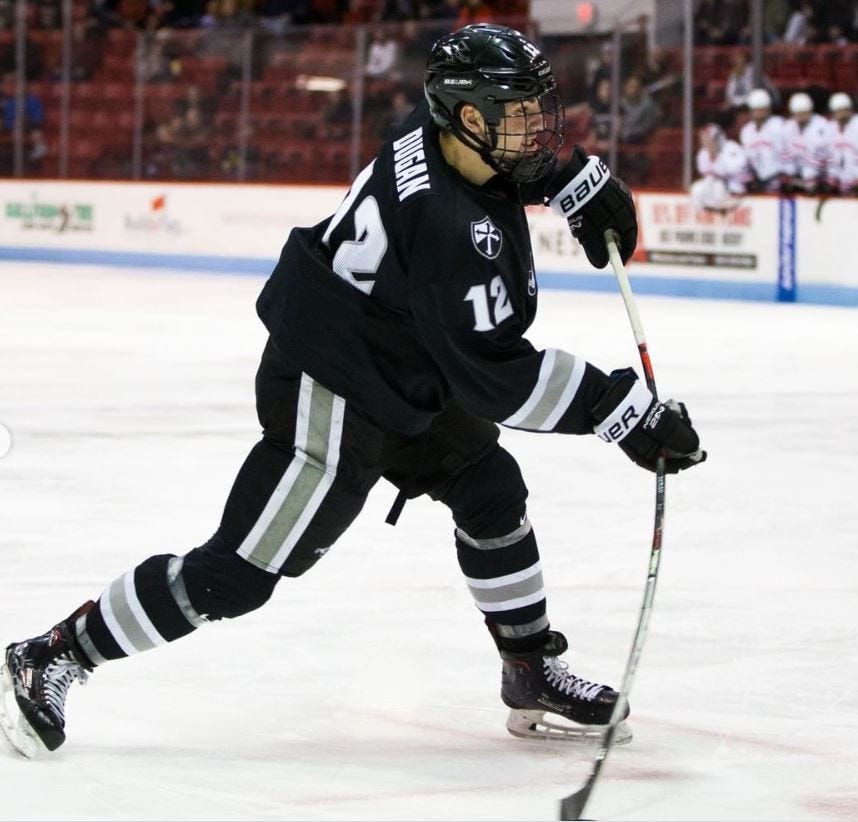 (@friarshockey) Providence's Jack Dugan led the NCAA this season with 52 points.
---
What's Happening: The NCAA is nearing the point where student-athletes can make money off of their name. Although there will be less of a monetary impact for hockey players compared to NCAA football or basketball stars, this could still change a lot, writes The Hockey News' Ryan Kennedy.
Tell Me More: Kennedy sites Calgary Flames forward Johnny Gaudreau and Colorado Avalanche defenseman Cale Makar as two players who could have profited if these rules had been in place when they were in college.
"When Calgary Flames star Johnny Gaudreau was in his final year at Boston College, for example, his parents began noticing illicit 'Johnny Hockey' T-shirts being sold by folks trying to make a quick buck off the dazzling winger's fame. That led to Gaudreau trademarking the nickname after he left for the NHL, but he wouldn't have been allowed to profit off any merchandise while he was in college anyway."
The Bigger Picture: In addition to allowing players to make a few extra dollars, this move by the NCAA would give players the ability to sign equipment deals and potentially hire agents — right now college players are only allowed to use unpaid "family advisers." These big changes are coming soon. "The Board of Governors has given the OK for the current third-party endorsement changes and by January, the three divisions of college athletics are expected to adapt the rules in time for the start of the 2021-22 academic year."
Dig Deeper: Ryan Kennedy, The Hockey News
Phase 2
What's Happening: A nearly two hour NHL Board of Governors call earlier this week covered a variety of topics, from June's draft to the start of "Phase 2."
Tell Me More: The NHL wants to start Phase 2 sometime in May as distancing loosens around the country. BUT BUT BUT, TSN's Darren Dreger says we might have to wait a little longer.
"Phase 2 though can't really get started until the large majority of the NHL teams are able to open up and that means players coming back … the NHL isn't going to allow players to go to their club facility again until the majority are able to do that."
The Bigger Picture: Phase 2 really only means that players will be able to enter their team facilities in small groups. Basically, the fact that we might not even start Phase 2 before the end of May means we aren't really close to seeing NHL hockey on our television screens.
More Links from the Rink