Forecasting High Kuemperatures
Welcome to the Pregame Skate, a Five Minute Major Upgrade to Your Inbox
🔊Call Radar: We're excited to announce our 11th LIVE conference call with NHLPA certified player agent Steve Reich, who has been representing professional players since 1987. Steve represented the likes of Mario Lemieux, Ron Francis and Chris Chelios earlier in his career, and he is now a member of the O2K Worldwide Management Group, which boasts a client list with names like Wayne Simmonds, T.J. Oshie, Vince Trocheck and Derek Stepan. Have questions for Steve? Tap the comment button above or ask him live this Monday, November 25th at 3 p.m. EST.
🆘6 Straight Losses in the 6ix: After dropping five straight games and surrendering 20 goals in four contests last week, the Maple Leafs held a players only meeting. The Leafs played a little better Tuesday against the Golden Knights, but the result was the same, as they lost their sixth straight game by a score of 4-2. This extended skid led to the firing of head coach Mike Babcock yesterday afternoon.
Slumping Sabres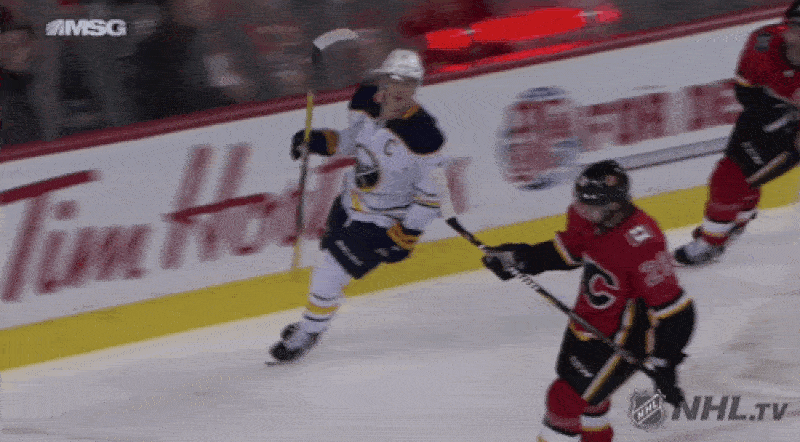 What's Happening: The Buffalo Sabres got off to a hot start under new head coach Ralph Krueger, and many analysts were excited about their future given the early production from their young talent. The month of November, however, has not been good to the Sabres, as they've lost all but one game. Ouch.
Another Blow: The Sabres will look to turn the tide without the help of one of their top forwards, Kyle Okposo, who suffered his fourth concussion in less than three years. The concussion occurred during last week's game against the Senators when Okposo ran into Ron Hainsey accidentally.
One Bright Spot: Sabres Captain Jack Eichel is one thing that Buffalo fans can be thankful for right now. Eichel scored all four Sabres goals in the aforementioned game against the Senators, leading them to their only win of the month. Eichel is tied for 11th in the league with 25 points.
The Bigger Picture: The Sabres have now dropped seven of eight after Tuesday's loss to the Wild, another team that has struggled as of late. Things could get even worse for Buffalo—their next opponent is the Atlantic Division leading Bruins.
Dig Deeper: Mike Schopp, WGR 550 Buffalo Sports Radio
Forecasting High Kuemperatures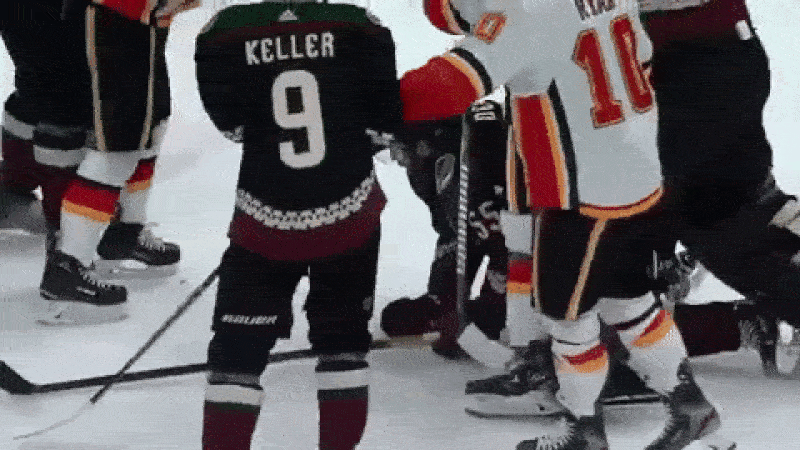 What's Happening: Darcy Kuemper is on fire this season as evidenced by his league leading 1.85 goals against average. The netminder is leading a resurgent Coyotes team that finds themselves in second place in the Pacific Division with 28 points.
Tell Me More: Kuemper's strong play is also bringing out the best in his backup, Antti Raanta. Two nights after Kuemper stopped all 37 shots against the Flames (and got in the scuffle shown above), Raanta shutout the Kings, saving all 31 shots he faced.
Rollin' Rollin' Rollin': This was the first two game stretch with back-to-back shutouts for the Coyotes since 2012, and it also marked the first time the franchise has ever done so with two different goaltenders.
The Bigger Picture: As we discussed Tuesday, more NHL teams are transitioning to a two goaltender system, and the Coyotes are another team that's proving how effective it can be to control a starter's minutes. In fact, Raanta and Kuemper have each played three of the Coyotes last six games—they have a 4-2 record in that time.
Dig Deeper: Richard Morin, AZ Central
One Game to Watch: Flyers vs. Hurricanes
When: Thursday, November 21 @ 7 p.m. EST
Watch: FSCR, NSPA
The Matchup: The Hurricanes are coming off a three game sweep on the road, but they need to continue to win if they want to keep up with the Capitals and Islanders. The Flyers are just three points behind the Canes, so a win tonight could put them right back into the mix in the highly competitive Metropolitan Division.
More Links from the Rink