Illini in Limbo
Welcome to the Pregame Skate, a Five Minute Major Upgrade to Your Inbox
🤯Rumor Mill: Now the NHL is supposedly abandoning the neutral site playoff strategy? That's enough from the NHL rumor mill for one week — instead, let's see what's going on in the world of college hockey.
Illini in Limbo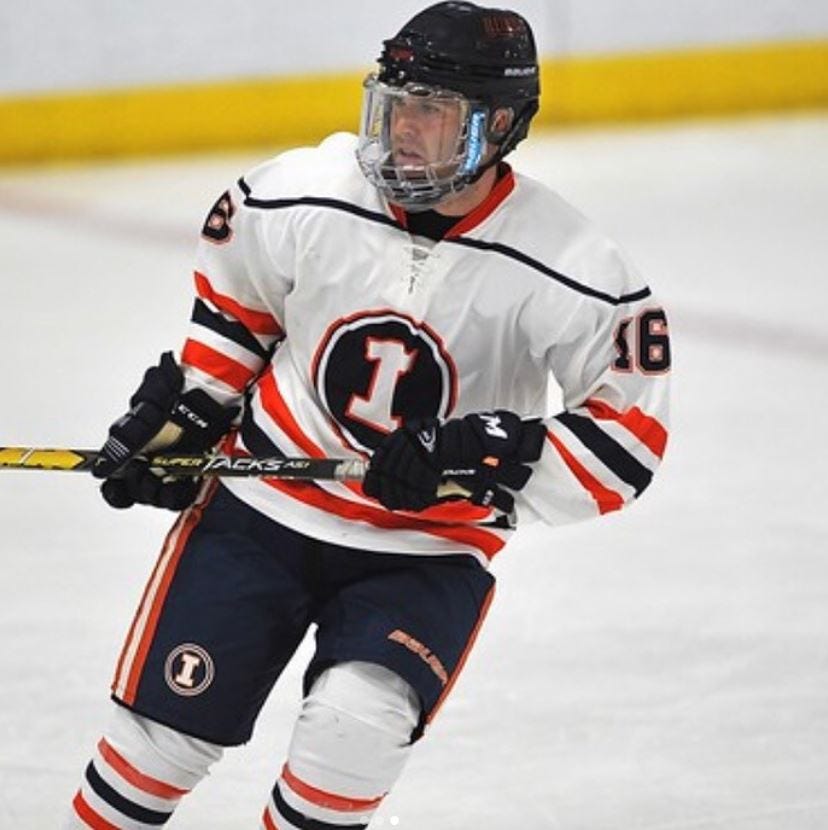 (@illinoishockey) Illinois' hockey team currently competes at the ACHA Division 2 level.
---
What's Happening: Jeremy Werner from the Illini Inquirer writes that the University of Illinois is putting a hold on their bid to become a Division 1 program.
Tell Me More: "Illinois athletics director Josh Whitman told the Illini Inquirer on Monday that the Illini were preparing for a late spring announcement of the formal creation of a Division-I men's hockey program and a downtown Champaign multi-purpose arena, the culmination of almost four years of planning, fund-raising and coordination with local leaders."
BUT, the process has been halted due to COVID-19.
Backstory: "Whitman has partnered with local businesses, investors and municipalities in organizing the construction of a $100 million downtown Champaign arena that Illinois would use for a new men's hockey program." Arizona State University and Penn State's early success has given Whitman and other university officials confidence that they can support a new program.
The Bigger Picture: "Hockey recently has moved lower on Whitman's list of priorities. Student-athlete, coach and fan player safety remains the top priority followed by trying to plan contingencies for the potential scheduling and financial fallout caused by the further delay or postponement of Illini sports."
In Other College Hockey News…
What's Happening: USCHO's Ed Trefzger writes that Division 1 college hockey conferences are preparing for a shortened season in 2020-2021.
The National Collegiate Hockey Conference (NCHC) "will have several video conferences next week to replace what would have been taking place today and tomorrow in Naples, Fla., at the cancelled annual American Hockey Coaches Association convention, and COVID-19's impact will be discussed."
Hockey East is looking into a 20 game in-conference schedule, and Atlantic Hockey teams could play closer to 25 games as opposed to 34.
Bottom Line: College athletics have way more hoops to jump through than professional teams such as finals schedules and mandated school breaks.
More Links from the Rink