Listen: Life After Hockey With Lee Moffie
What happens after you have to hang up the skates? Anyone who plays the game into high school, college, and the professional ranks knows it's certainly an identity crisis to say the least. Moreover, it's hard to reinvent yourself after you take off your jersey. That being said, the game of hockey prepares players for "the real world" arguably better than any sport, and some former stars really find their stride off the ice. As part of our ongoing series "Life After Hockey" we spoke to Lee Moffie, a former Michigan University standout who has found success in the clothing business.
Background: Moffie was a star at Avon Old Farms before leaving the prep school to play for the Waterloo Blackhawks in the USHL. Following a four year career at Michigan, Moffie played two years of professional hockey, coming up with an idea for an athletic fitting dress shirt while playing for the South Carolina Stingrays. After testing the concept out on some teammates, Moffie started State & Liberty, which is in its fifth full year and is now one of the most popular brands among professional athletes.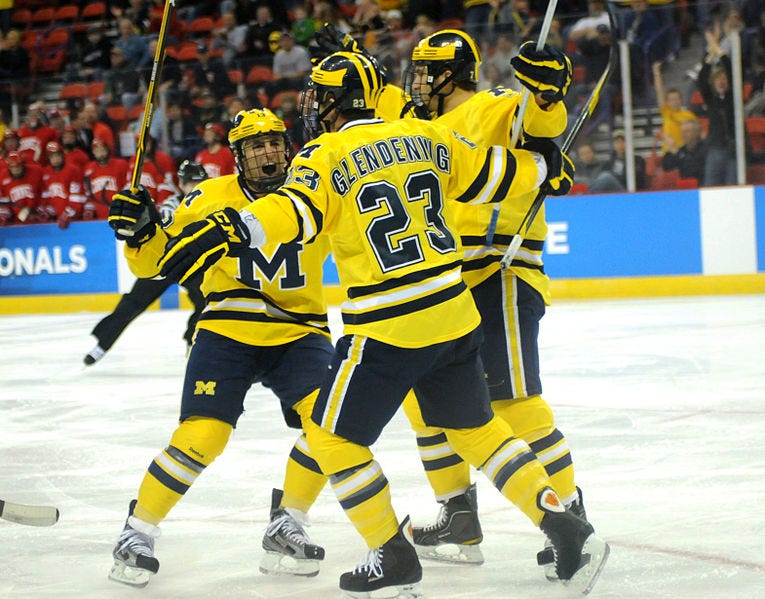 Photo: Lee Moffie and Luke Glendening with the Michigan Wolverines (CCHA) - University of Michigan. Taken on March 23, 2012 (Adam Glanzman/Daily)