One Billion Reasons
Welcome to the Pregame Skate, a Five Minute Major Upgrade to Your Inbox
🏆Postponed: Wednesday, the NHL announced that they will postpone the draft, combine, and awards ceremony.
🧊The ice has officially melted at the TD Garden in Boston and several other rinks around the NHL. Keep reading…
One Billion Reasons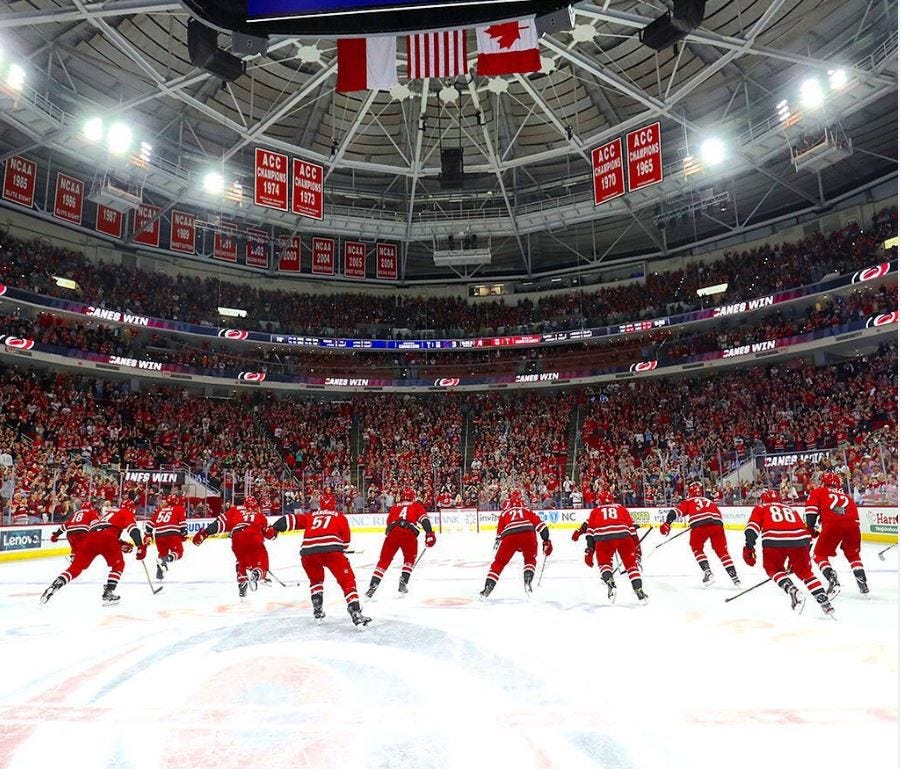 (@canes)
---
What's Happening: We're all patiently awaiting the NHL's return, and the possibility of summer hockey is helping the hockey world stay positive. But does it really make sense? Here are some obstacles the NHL is facing.
Extending Contracts: NHL contracts expire on June 30th, so they would have to amend those in order to continue play into July, August, and possibly September. Additionally, foreign players could run into trouble securing work visas.
Ice Issues: TSN's Mark Masters interviewed Jared Dupre, who has spent the last eight seasons as the Carolina Hurricanes ice technician. According to Dupre, "our biggest problem here in North Carolina is the humidity we face at that time of year. Typically in July and August we can have temperatures anywhere from 90 degrees (Fahrenheit) to 115 with 65 percent humidity outside."
He went on to say, "Any of the southern teams on the Eastern seaboard here are dealing with the same issues this time of year."
Is all of this worth it? It is for the NHL, who could lose up to $1 billion if play is not resumed this season.
Coronavirus Cuts
What's Happening: The NHL is "temporarily" cutting the pay of employees who work in their league office by 25%.
Tell Me More: Some NHL teams followed suit but later reversed their actions. "On Monday, the New Jersey Devils became the first known NHL team to be subject to a pay cut while the season is on pause," writes ESPN's Emily Kaplan.
"But on Tuesday, ownership for the [Devils and NBA's 76ers] came out and said that 'after listening to our staff and players, it's clear that was the wrong decision. We have reversed it and will be paying these employees their full salary.'" Wait, what?
Wednesday, the Bruins laid off 150 employees, leading to widespread criticism of billionaire owner Jeremy Jacobs.
The First Domino Has Fallen: Pay cuts are happening across all industries, so it's only a matter of time until many individual NHL teams start doing the same in an attempt to mitigate their losses.
More Links from the Rink