Pen to Paper
A Five Minute Major Upgrade to Your Inbox
Hey everyone - we tried out a new format for this edition of Pregame Skate. This newsletter is built for our subscribers, and we'd love to hear your thoughts. Tap the comment button and tell us what you'd like to see as we move forward into 2021.
One Big Thing: Pen to Paper
What's Happening: The New York Rangers have officially signed Alexis Lafreniere, the No. 1 overall pick of the NHL draft. So it's been a big week for Lafreniere and hockey (especially since the draft was originally scheduled for June but delayed because, well, everything is delayed right now), but Lafreniere also turns 19 this week. 
Like so many new NHL players, he's a young guy trying to navigate the world of professional sports and he's also about to move to New York City. Being the first pick is always a lot of pressure, but it's hard to overstate how strange this must feel in the middle of a global pandemic, with some amount of uncertainty about when he'll get to play at Madison Square Garden. 
The key to the next few months for Lafreniere and the other new players: a network of agents, parents, veteran players, and detailed plans for how to navigate the launch of a new NHL career. How many billboards will feature his face? What kind of events will he go to? And how will he manage all that and practice? ... In a pandemic? 
Let's take a look behind the curtain at the process that awaits him. 
Tell me more: Lafreniere is repped by agent Emilie Castonguay, one of the NHL's only certified player agents who's also a woman. Castonguay and the Lafreniere family haven't said much about what Alexis' life will look like when he gets to New York City, but Castonguay has said how confident she is that he will succeed. 
"There is nothing in his mindset that will allow him to be sidetracked," Castonguay told USA Today last year, when analysts were already predicting Lafreniere would be the No. 1 pick. "There is no way it's not going to work out for him because he has that mentality."
Former NHL player and rep for former top picks Aaron Ekblad and Connor McDavid, Jeff Jackson says Castonguay and Lafreniere's family are probably getting on the same page with a plan that will involve shielding Alexis from some of the distractions and extra pressures that await him in New York. Jackson said this kind of management is a balancing act, but Castonguay is probably working with the Rangers to make sure Lafreniere will have the best chance for success—both promoting him and protecting him in equal measure. 
Digging deeper: In a regular season (read: not this season), new players get to meet their future teammates, coaches, and media relations team before the season starts. New players go to a development camp and a rookie camp to meet each other before the full training camp even starts. Sometimes they get to do a rookie tournament, too. Before the season starts, they get used to giving interviews and taking media requests. But right now it's unclear when the season will even begin—or what Lafreniere's interactions with journalists will look like. 
Right now, Lafreniere's support team—including Castonguay, his coaches, and parents—are probably getting him ready in as blunt a way as possible for all the eyes that will soon be on him. 
And then there's housing: Lafreniere hasn't ever been to New York City before, and he told the New York Times last week that he's feeling excited to play at Madison Square Garden. 
"I am really excited to arrive in New York in the next maybe couple of months," he said. "I hope we're going to have a good season."
So where's he going to live? Past first picks have taken a few routes. When Jack Hughes was drafted to the New Jersey Devils in 2019, the 18-year-old moved in with netminder Cory Schneider and Schneider's young family for the first year. That kind of structure has become something of a tradition in the NHL. Sidney Crosby moved in with Hall of Famer Mario Lemieux for the first year of his NHL career. Even back in 2006, Jordan Staal moved in with Mark Recchi to start out. 
Some players move in with a group of veteran players so they can focus 100 percent on hockey and getting the ropes. It's not one-size-fits-all, and it'll be up to Castonguay and the Lafrenieres to decide what's right for Alexis. 
The bottom line: There's a lot for Lafreniere to navigate in the next few months. What's for sure right now is that he'll be number 13 on the New York Rangers, no matter where he lives or when the team actually gets to play a game.
---
Insider Updates & Analysis
Breaking: The Canadiens announced they have signed goaltender Jake Allen, who was acquired from the Blues earlier this off season, to a two-year contract extension that will keep him in Montreal until the end of the 2022-2023 season.

Update: The Bruins signed Greg McKegg to a one-year deal worth $700K.

Rumor: Vegas Golden Knights owner Bill Foley said that he's heard the NHL season must be over by the end of June due to the Olympics. He also mentioned that the NHL is kicking around the idea of having a Canadian division next season and not starting the year until February 1.

Update: Nashville Predators President of Hockey Operations/GM David Poile announced Monday that the team has signed forward Brad Richardson to a one-year, $1 million contract.

Update: The Philadelphia Flyers announced they have signed free agent defenseman Erik Gustafsson to a one-year contract worth an average annual value (AAV) of $3.0M.

Update: The New York Islanders have traded defenseman Devon Toews to the Colorado Avalanche for a pair of second-round picks, the team announced Monday.

Update: The Philadelphia Flyers announced today they have signed Zayde Wisdom, the club's fourth-round selection (94th overall) in the 2020 NHL Entry Draft, to a three-year entry-level contract. The contract is worth $925K AAV.

Update: Don Waddell, President and General Manager of the National Hockey League's Carolina Hurricanes, today announced that the team has agreed to terms with defenseman Joakim Ryan on a one-year, two-way contract. The deal will pay Ryan $700,000 on the NHL level or $150,000 on the American Hockey League (AHL) level during the 2020-21 season.

Update: The Toronto Maple Leafs announced today that the hockey club has signed forward Jimmy Vesey to a one-year contract valued at $900,000. 

Rumor: Gabriel Landeskog and the Colorado Avalanche have begun discussions on a contract extension, general manager Joe Sakic said Monday. Related From Mike Chambers: Brandon Saad said the team's captains — MacKinnon Johnson, Landeskog — have already reached out to him.
---
Odds & Ends
"Caps Fans Be Like" (u/scoaaaaar)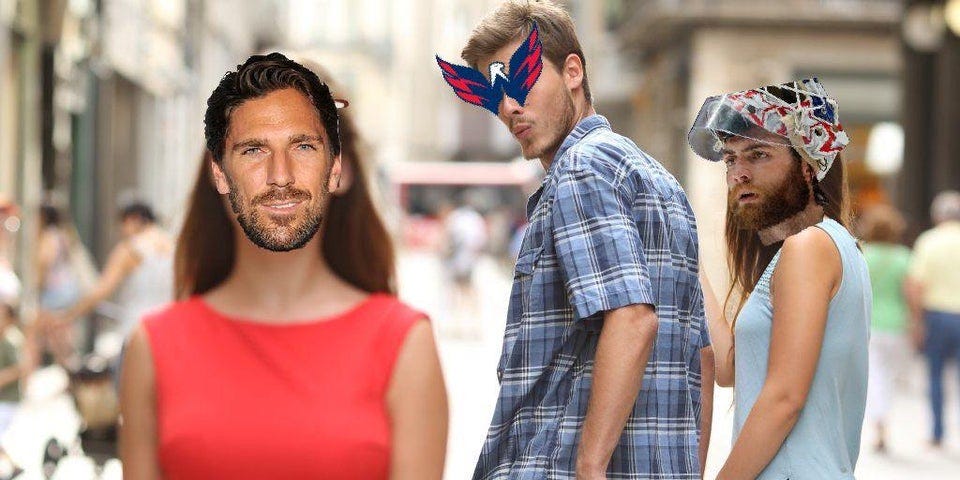 Calgary Flames in the 2020 NHL Draft (u/shiftywalruseyes)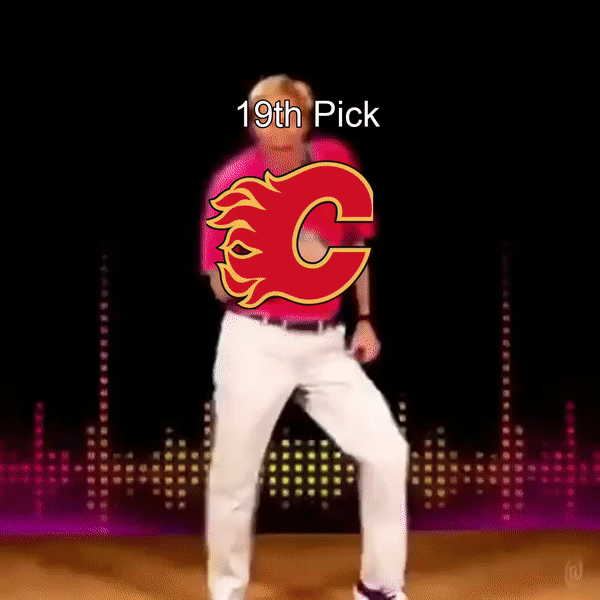 Sorry Holtby (u/Joshss1122)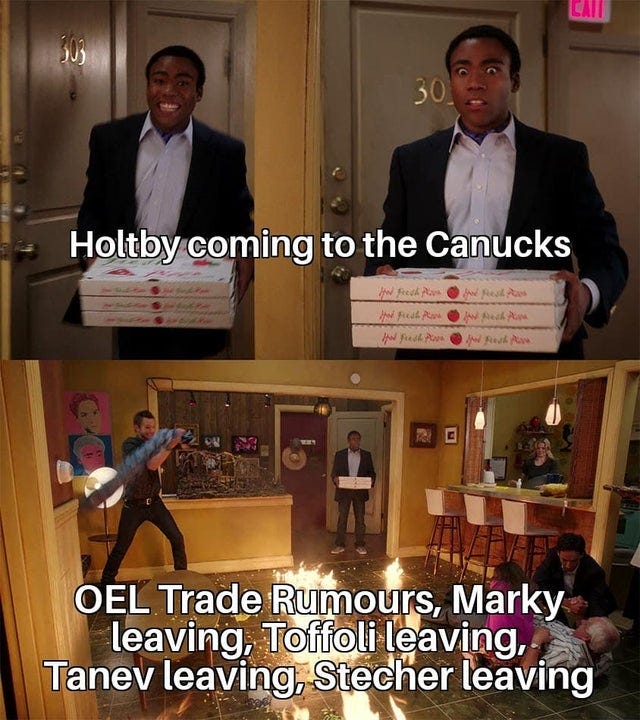 ---
A Question for the Peanut Gallery
What do you think about Alexis Lafreniere? Will he be better than Jack Hughes?