Rock Your Role
Welcome to Pregame Skate, a Five Minute Major Upgrade to Your Inbox
🇨🇳 Tomorrow the Arizona State Men's Hockey team will become the first NCAA program to play in Beijing. In somewhat related news, things got heated between a pair of Hong Kong and Chinese youth teams at the at National Youth Games. Given the geopolitical backdrop the video has since gone viral.
🕺 TBT: it's Thursday so we're throwing it back to the time Michael Jackson dropped the puck at a game between the Pittsburgh Penguins and the Vancouver Canucks.
🎯 P.S., every hockey family needs one of these in their backyard for the summer.
---
Life After Hockey
Big thanks to everyone who dialed in from around the country for our call with Lee Moffie. Hosted by his best friend, former teammate, and Boston College Hockey captain, Pat Mullane, the two covered everything from their early days at Avon Old Farms to playing in the USHL and college. Ultimately, they touched on the subject of "Life After Hockey". For Lee, it was starting State and Liberty, now one of the most popular brands among professional athletes. At the end of the call, Lee announced that Pregame Skate subscribers can use the code "PREGAME" for discounts purchased online. We'll have the recording for you next week in case you missed it. In the meantime, we wanted to take a deeper look at something that Pat and Lee spoke about, and one way to make it to college or the NHL. Let's dive in.
Rock Your Roll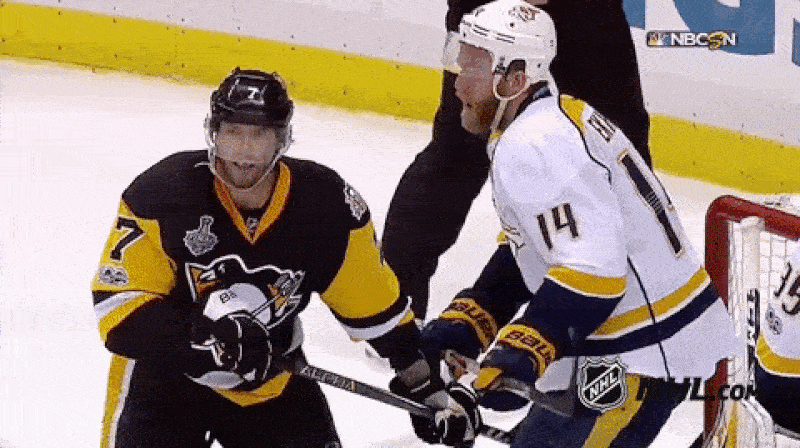 Growing up, a lot of players (and their parents) think there is only one way to make it to the NHL, and that is to put up as many points as possible. Superstars like Nikita Kucherov, Alex Ovechkin, and Sidney Crosby more often than not get the most attention - whether that manifests itself in actual ice time, media coverage, or even endorsement deals. What gets lost in the sauce, however, is the very important notion and valuable concept of being a "role player" which can propel players through NHL careers that last over two decades. Let's take a look Matt Cullen, for example, who recently announced he is retiring after 21 seasons in the NHL. The 42-year-old, three-time Stanley Cup-winning forward was the oldest player in the league last season and finished with just 20 points (seven goals, 13 assists). Here's the thing, while Sid was busy doing things like this (sweet soundtrack by the way), Cullen was busy with a different, yet equally important set of responsibilities - namely, quarterbacking the fourth line and proving his worth as one of the most effective penalty killers on the team. And while you may be hard pressed to find Cullen starring in any Gatorade commercials, privately he earned the endorsement of those very superstars getting most of the public attention. That, we'd argue, is maybe even more of an honor. It's not a bad thing when your kids get to play mini hockey with guys like Sidney Crosby, Ian Cole, Carl Hagelin, and Patric Hornqvist.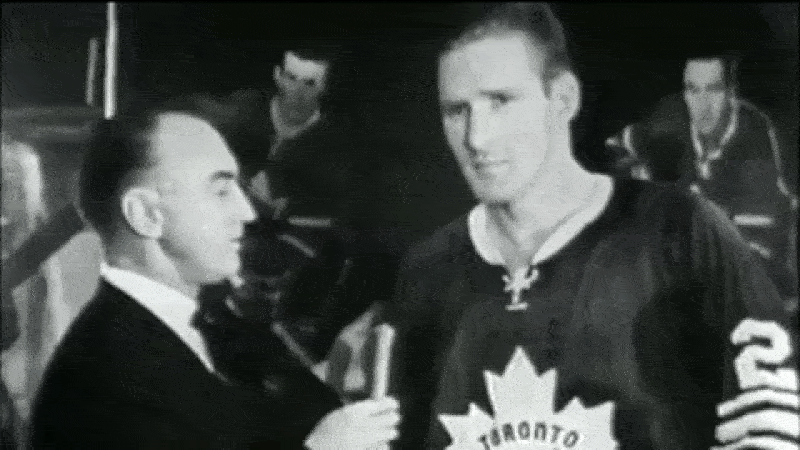 Another older, and sometimes lesser-known example of a journeyman who rocked his role was legendary defenseman, Larry Hillman (pictured above), whose 22-year pro career included stints with numerous NHL teams. "The native of Kirkland Lake, Ontario, played for 15 teams during his 22 pro seasons. Twice in his career, he had the dubious distinction of being the property of three NHL teams in one day. Perhaps his slogan should have been, "Have Hockey Stick, Will Travel", Stan Fischler writes for the NHL. Like Cullen, Hillman was a winner and enormously admired wherever he played. If you need proof, just keep an eye out for his name next time you get a chance to look at the Stanley Cup. It's on there six times.
One final thing to think about is that carving out a role and mastering your craft isn't just a way to make it as a player - it's a way to make it when your playing days are over as well. Teams and organizations hire experts who can help them do everything from refine their penalty kill to improve their face-off odds. At the end of the day, never overlook the power of simplicity and remember - if you're a jack of all trades, it may mean that you're a master of none. Find a roll, master your craft, and good things will happen.
The Best Way to Spend the Off Day
Training Ground: DeBrincat | Chicago Blackhawks
Every player has his or her own workout routine during the off-season. You have Michael Grabner doing out of water box jumps, Michael Del Zotto doing Earthquake Military Press, and Mitch Marner doing classic Single Legged Squats & Sled Pushes. (Then you have Ovi doing crazy Russian workouts, that no one has ever heard of. That's beside the point.) What we're getting at is that, unless you workout seven days a week (which you shouldn't be doing), every player is bound to have down-days, which are prime opportunities for low-impact workouts that can drastically help other parts of your game. Below are a three workouts that some NHL players do to work up a minor sweat, increase their flexibility, and strengthen their core:
Rowing
Hopping on an indoor rowing machine for twenty minutes to get a light sweat might be one of the most overlooked workouts for hockey players, and it's perfect for your off-day. So much emphasis is put on building lower body muscles (and for good reason) that sometimes we neglect the upper body, especially the back. Players spend so much time hunched over and bent to their dominate side, that ultimately their back muscles and overall posture becomes warped. Rowing can help restore muscular and postural balance. Taking advantage of down days to get a cardio-based, upper body and back exercise in is a great way to keep active, but not totally drain your energy. 
Yoga
This one isn't really new, but it's oftentimes forgotten. For players who are trying to get a solid sweat in, but not looking to lift, run or bike, yoga - especially hot yoga - is a low impact way to get the heart pumping and the sweat flowing. Most importantly, yoga helps increase flexibility. Greater mobility not only helps with everything from stride-length to poke-check range, but it can be preventative as well. You can't get scouted from the stands if you're injured, so it's best to take care of your body before something happens. 
Barre
That's right, we said it. Barre, a hybrid workout class that combines ballet-inspired moves with elements of pilates, dance, yoga, and strength training (and typically has more females in the class) is perfect for hockey players. Most classes start with a warm-up of push-ups, tricep dips and planks, before moving to the barre, to focus on legs and glutes. Barre does not involve cardio, and it doesn't involve heavy lifting, so it allows players to strengthen their core and reach muscle groups that may otherwise be neglected.  
Mixing any one of these workouts into your routine, with a 10-15 minute sauna, all while drinking plenty of water is a good way to fill your off-day, get a light sweat, and gear up for the higher impact exercises that involve lifting or cardio.
More Links From The Rink