Scandella's Scoop on Salaries
Welcome to the Pregame Skate, a Five Minute Major Upgrade to Your Inbox
🏝 Palm Springs Firebirds: It looks like NHL Seattle's AHL affiliate has a nickname before the big club—the Oak View Group applied to trademark the "Palm Springs Firebirds" as their new team name.
Scandella's Scoop on Salaries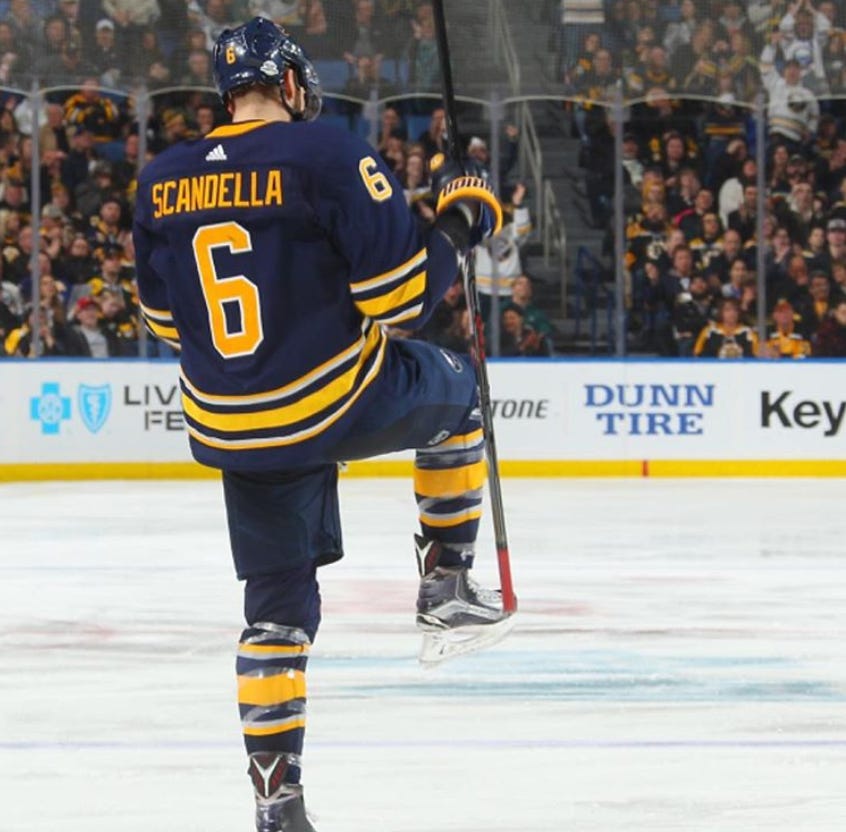 (scandeezy6)
---
What's Happening: With all this talk about contract disputes, many of you might be asking the obvious question: why are these highly paid athletes holding out when they receive millions to play a sport? Sean Gordon from The Athletic broke down an NHL salary, and his analysis might shed some light on why these players are fighting to get the money they deserve.
Tell Me More: Gordon spoke with Buffalo Sabres defenseman Marco Scandella, using his current $4.75 million contract as an example. According to Scandella and his financial analyst Matthew Shannon, this figure drops to about $1.7 million due to some expenses that are unique to NHL players.
Aside from the 37.5% U.S. federal tax rate, the biggest contract killer is escrow, which is a percentage of the players' salaries that is withheld if they exceed 50% of the hockey-related revenues during a given season. This number amounts to around 10-15% of a player's contract, depending on the year.
Other NHL-specific expenses include agency fees (3-5% of the salary minus escrow), nutritionists, strength coaches ($6,000-$8,000 per summer), and tips to trainers, equipment managers, and massage therapists. Many of these used to be deductible expenses, but they aren't under the current U.S. tax code.
The Bottom Line: NHL players are by no means poor, but the salaries you see in the headlines don't always tell the whole story. Last year, 100 NHL players made less than $800,000. In comparison, the minimum salary for an NBA player with one year of experience was $1,349,383 during the 2018-2019 season.
Dig Deeper: Sean Gordon, The Athletic
From the Ground Up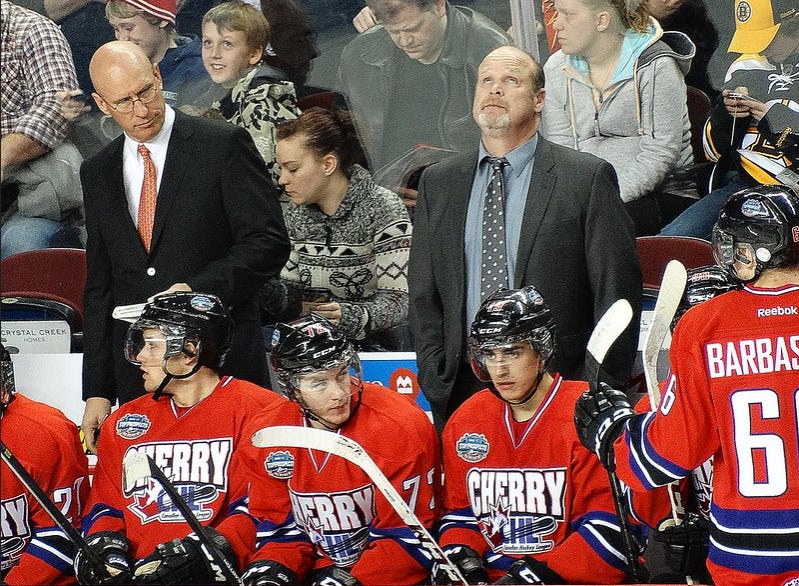 Mark Hunter played 628 NHL games before helping develop players like Patrick Kane and Mitch Marner as the GM of the OHL's London Knights.
---
What's Happening: New NHL Seattle general manager Ron Francis hasn't been given the okay to start hiring staff quite yet, but rumors are already starting to circulate about who else will join the new franchise. His first order of business? Finding an assistant GM—here's a few candidates to keep an eye out for.
Tell Me More: The Hartford Whalers team that Francis captained has produced quite a few NHL coaches to date—Dave Tippett, Kevin Dineen, Dean Evason, and Ulf Samuelsson just to name a few—and other members of the former Connecticut NHL team could factor into his assistant GM search. Paul Fenton, who recently lost his job with the Wild, former goaltender Sean Burke, Mark Hunter (see above), and TV analyst Ray Ferraro are a few former Whalers that Francis is taking a look at.
The best option could be Francis' assistant GM during his time with the Hurricanes, Ricky Olczyk, who has proved to be a wizard when dealing with contract and collective bargaining disputes thanks to his experience working for the NHLPA. Olczyk could help Francis stay under the salary cap, and we imagine his Cornell University law degree will come in handy when working with the league ahead of the franchise's debut.
Sleeper pick: Former Flyers goaltender and GM Ron Hextall's name has been thrown around due to his ability to draft well—he was the man responsible for selecting Carter Hart back in 2016. The Flyers fired Hextall last November after an unsuccessful rebuild attempt.
The Bigger Picture: In an interview with Sports Illustrated, Francis described how he wanted his front office to operate, saying "I want an environment with our staff that's inclusive. Everyone should feel like they have a voice and they should be willing to express that voice without any fear of ridicule and retribution." In addition to this, NHL Seattle has plans to rely heavily on analytics with the help of Alexandra Mandrycky, who happens to be the only other employee that the new franchise has hired thus far.
Dig Deeper: Geoff Baker, The Seattle Times
More Links from the Rink