We Asked A Question
The Art of the Good Run, Revisited
Flashback
Back in February, we did a deep dive on St. Louis Blues goaltender Jordan Binnington, raising the question: Will he be the long term solution in goal for the Blues?
GIFs Are Worth More than 1000 Words: Well, it's safe to say we got our answer to that question, as Binnington proved he's capable of showing up on quite literally the biggest stage in hockey—Game #7 of the Stanley Cup Finals. The piece below was written just 20 games into this historic run, which was about halfway through the second half of the regular season where Binnington brought the Blues from worst to first in a matter of months. Enjoy this Sunday Scroll and ask us anything by hitting the comment button below.
The Art of the Good Run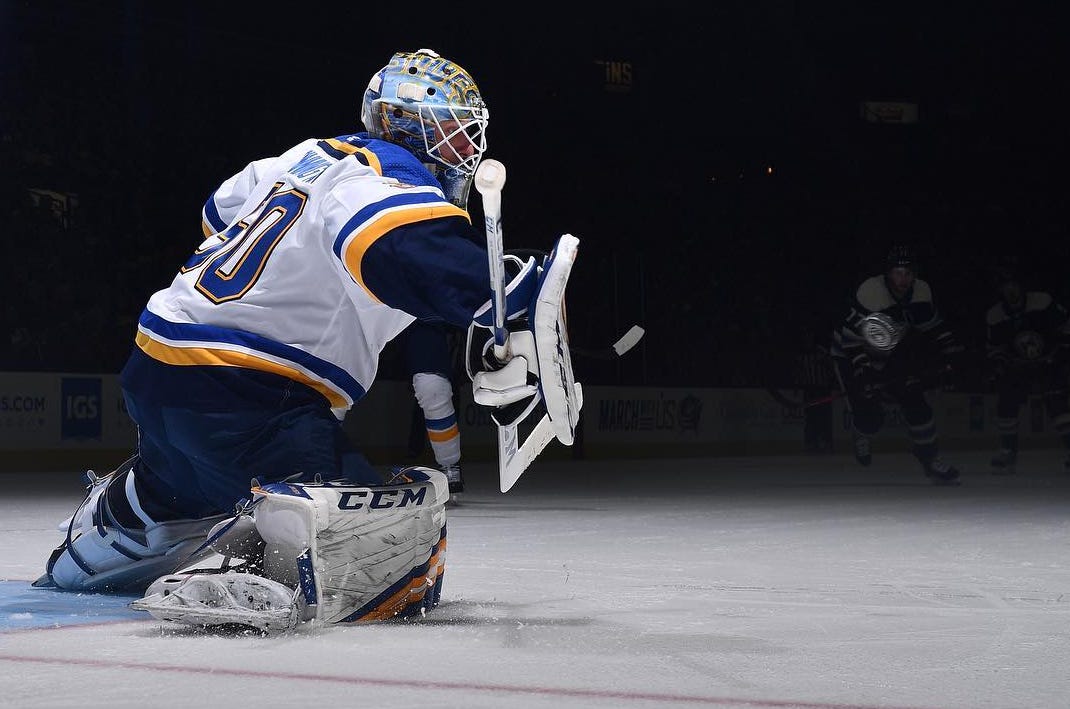 ---
Professional goaltenders stuck in between the AHL and NHL often have transaction reports that read like short stories, as one injury up top results in an opportunity to pull yourself up from the bottom. Frequently, these moments are short-lived stints in less than ideal circumstances; the second night in a back-to-back or a relief performance. St. Louis Blues' goaltender Jordan Binnington's call came back on January 5th and since that fateful day he's defied the odds, finding a way to lead a resurgence that took the club from last place in the Western Conference to playoff contenders. Binnington's recent stretch is reminiscent of the one Andrew "The Hamburglar" Hammond had for the Senators in 2015 when he went 20-1-2, salvaging their season in the process. What Hammond did and Binnington is doing is more than a streak but not necessarily proof that future success is imminent, as evidenced by Hammond's lackluster career since. These two have mastered a feat that's only possible for certain positions in sports, like quarterbacks and starting pitchers. "The Art of the Good Run" is just that, an art, and although Binnington's rise may seem unlikely, it is certainly not by accident. "The run" is what everybody pays attention to for obvious reasons, but what occurs before and after this span of heightened play is the best way to grasp the whole story. Hammond's career went down one path, begging the question: what does the future hold for this surprising new Blues star?
Binnington's minor league career has been a back and forth affair, but the former third round pick has had success more often than not, never going below a .907 save percentage in the AHL. A low point perhaps came when he found himself fifth on the Blues' depth chart and was shipped off to the Providence Bruins because there wasn't room for him in St. Louis' minor league pipeline, but he handled that well, gathering 17 wins (and a fight) to go with an impressive 2.05 goals against average. Still, the sporadic nature of his AHL career wouldn't have you guessing he was the next Blues starter to lead them to the post-season promised land.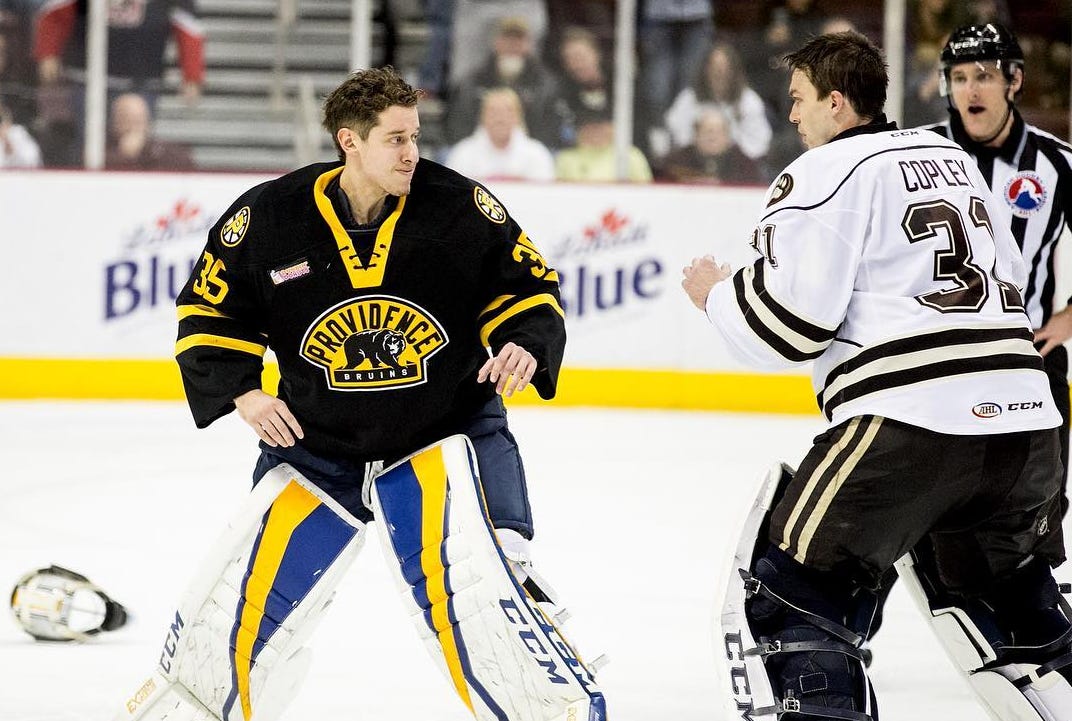 Photo: @

binniner

 (Click to see the fight)
---
For argument's sake, let's compare Binnington's AHL numbers to "the Hambuglar," who has dropped completely off the NHL radar since his historic run. In 73 starts over two seasons with Binghamton prior to his call up, Hammond had a .905 save percentage, and his .898 mark in the AHL the season of his run with the Senators was third worst in the league at the time. Binnington, however, went 11-4 with a .927 save percentage earlier this year, "earning" his call up arguably more than Hammond did.
Stats aside, however, the circumstances between both runs are too similar not to compare. Binnington, 25, received his call up to the NHL on January 5th, while Hammond, 26 at the time, joined the Senators on January 29th.  Hammond started 14-1-1 and Binnington currently sits at 14-2-1, with both opportunities driven by injuries and a lack of expectations from teams that seemed left for dead. Binnington has pushed veteran Jake Allen to the bench, while Hammond maintained his starting role heading into the playoffs even when Craig Anderson re-entered the equation. Looking at the bigger picture, Binnington and Hammond speak to an infrequent trend where players raise their game beyond their perceived skill set for an extended period of time before eventually coming back to reality. How does this happen?
Andrew "The Hamburglar" Hammond
---
The Art of the Good Run
The origins of a "good run" don't always jump off the page, but they seem to frequently begin with some sort of struggle, leading the athlete to forget about the expectations of others and just focus simply on upholding the standard they set for themselves. For Binnington, a minor league career that lacked structure seemed to provide the spark once he got the call, but that's just the start. The first game in a run is key, and it isn't always perfect, although Binnington's was just that. His 25 save shutout against the Flyers in that very first game started with some big saves early and a reliance on one of his strong suits, puck handling. Hammond's first start and subsequent win was sparked by a breakaway save on Max Pacioretty, and 44 Canadien shots throughout the game that kept the netminder busy and in the moment.
My personal experience with a "good run" came in 2012 as part of the Boston College Eagles. Midseason struggles placed me firmly on the bench for two months, but our team was able to win 19 straight games when I re-entered the net in a home game against the University of New Hampshire at the end of January (sound familiar?). That first game was anything but perfect—a 4-3 win where I only faced 13 shots—but it provided stability for my teammates, which they built on.
This in turn leads to the last piece of the puzzle that is the good run; the team's response to the provided spark. St. Louis is a prime example of a team that has had the pieces all along, just like the Boston College team in front of me did, as we had current NHLers Johnny Gaudreau, Chris Kreider, and Kevin Hayes, yet still somehow found ourselves out of the NCAA tournament picture in January. Likewise, the Blues lineup has been stacked from the start with the likes of perennial All Star Vladimir Tarasenko, steady captain Alex Pietrangelo, and off-season addition Ryan O'Reilly. The run started with the Blues playing a more responsible defensive game in front of an inexperienced rookie, but this soon blossomed into rallying around a young goalie who found a way to step up. The style of play driven by the addition of Binnington seemingly brought the stars and regulars back to life, with both sides continuing to feed off of each other.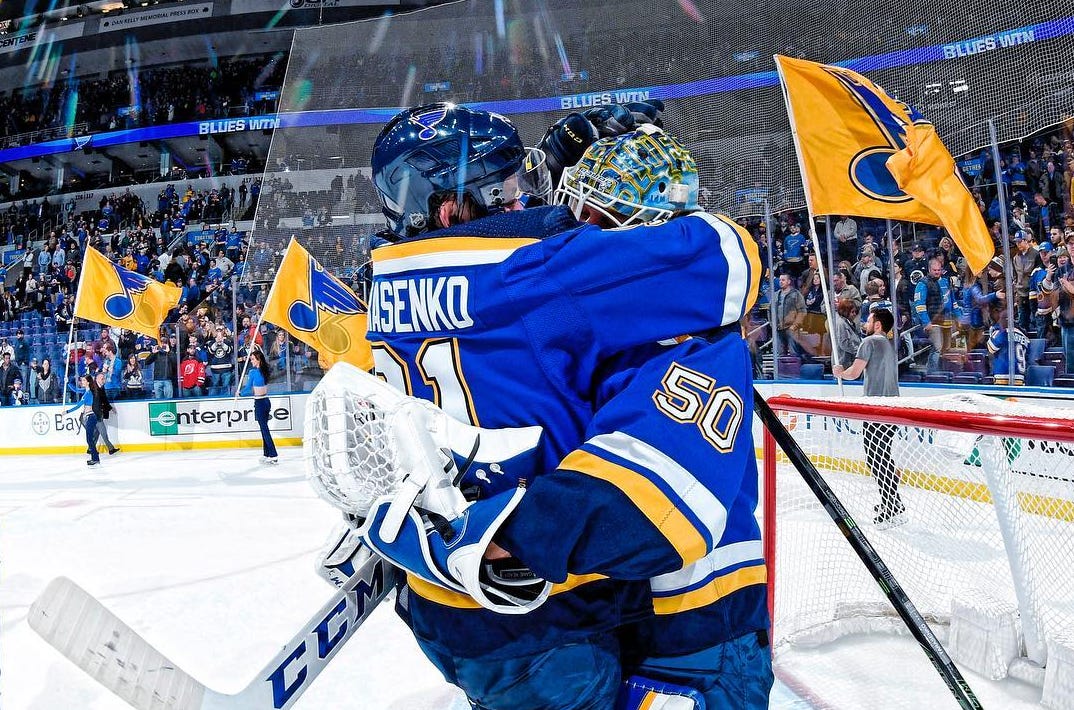 ---
The streak has been fun to watch, but it begs the question, is Jordan Binnington the long term answer in St. Louis? The most honest, and also annoyingly cliche, response is that only Jordan himself can answer that question. An acceptance once the run is over needs to be met with a determination to find a consistently high level of play moving forward, rather than searching for another stretch of immortal play. Hammond was never able to—he has just seven NHL wins in the four years since he was "The Hamburglar." Albeit at a lower level, I was eventually able to find consistency again, but it took over two years. In an NHL where coaches and executives have a "what have you done for me lately?" mentality, Binnington's 20 games after this current streak is over could possibly determine the type of NHL goaltender he's going to be for years to come.