So Much for Listening to the Experts
Welcome to the Pregame Skate, a Five Minute Major Upgrade to Your Inbox
🖊Recently signed NHL players will not be able to join their respective teams until next season, according to The Athletic's Michael Russo.
It's Not the First Time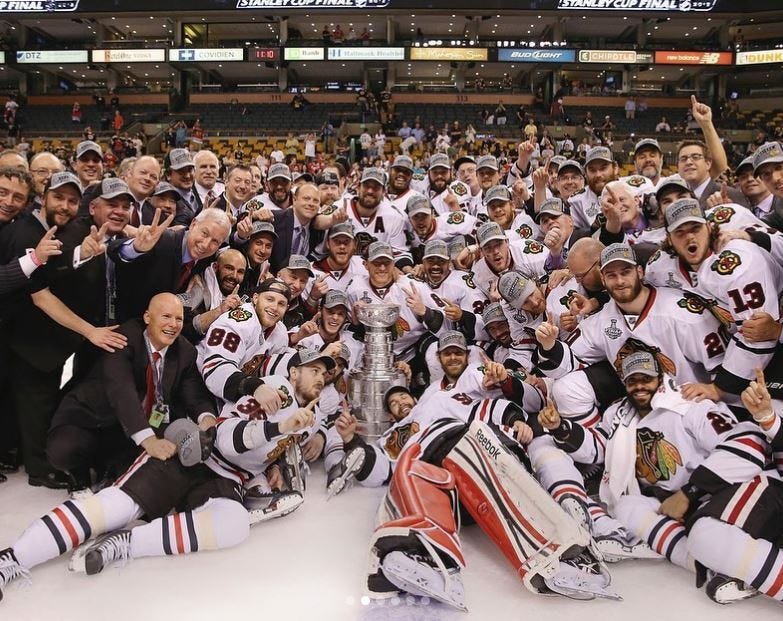 (@nhlblackhawks)
---
What's Happening: Even if the NHL returns to action, will the team crowned as the Stanley Cup champion have an asterisk next to their name due to the bizarre circumstances surrounding this season? Forbes' Justin Birnbaum writes that this isn't the first time circumstances outside of the arena have impacted a league championship.
Tell Me More: Two of the NHL's lockouts in the last 25 years significantly decreased the amount of regular season games played. "The challenges can vary, but history tends to look kindly on championships won under unique situations. The 1994-95 Devils and 2012-13 Chicago Blackhawks both won titles in a lockout-shortened 48-game season. Their inscriptions on the Stanley Cup are no different than any others."
Other sports have also had to deal with outside circumstances. "The 2017 Houston Astros and 2018 Boston Red Sox were officially penalized by MLB for cheating. Neither one of them has had to return their World Series trophy or received an asterisk in the book of record. Championships are absolute."
The Bottom Line: "Things are going to be different. It's the price of operating in a world battling a pandemic. But that's no reason to say this version is any less worthwhile."
So Much for Listening to the Experts
What's Happening: According to a tweet by TSN's Ryan Rishaug, one infectious disease doctor is suggesting some drastic changes if the NHL returns this summer.
Tell Me More: Among other things, the doctor suggests full face shields, wingers to maintain two feet of distance on faceoffs, and no fighting or scrums after whistles.
Rebuttal? NHL deputy commissioner responded to the suggestions saying, "We would consider anything our infectious disease experts and advisers might recommend. But I'm not sure given the circumstances of our game that any dramatic modifications will really be necessary."
More Links from the Rink
How will it feel inside an NHL arena if the league returns this summer?

NHL teams are signing fewer goaltenders from the NCAA ranks this off season.

Bettman is adamant the NHL season will be completed.