The Bubble
Welcome to the Pregame Skate, a Five Minute Major Upgrade to Your Inbox
The Bubble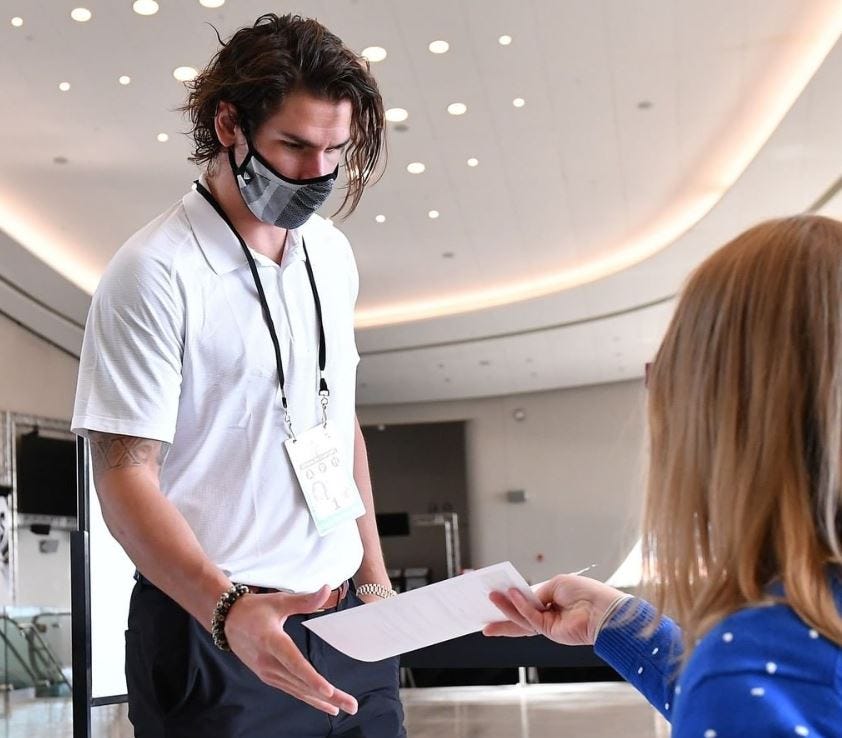 (@nhlflames)
---
What's Happening: As the MLB struggles with how to handle the COVID-19 outbreak occurring in Florida, the NHL pushes on after seeing zero new cases since players arrived in the two hub cities.
Tell Me More: NHL players seem to be adjusting well to life in the bubble. From custom masks to man buns, style points are at an all time high. Referees are also getting used to the new normal, staying sharp with on-ice work and Zoom meetings to discuss new rules and unusual plays from earlier in the season.
On the Ice: In Toronto, where the first exhibition game was played between the Penguins and Flyers, the stands at Scotiabank Arena were covered with NHL tarps to mask all the empty seats. To date, the games have been competitive but sloppy — that's to be expected after a 140-day layoff.
Reminder: The Qualifying Round kicks off on Saturday with the Rangers and Hurricanes starting the action at 12 p.m. EST. The five-game slate will conclude with the Jets and Flames at 10:30 p.m. EST on NBC Sports.
More Links from the Rink
Associated Press: "Racial equality statements begin to unfold amid NHL restart"

ESPN: "2020 NHL postseason: Picks for qualification round, Stanley Cup"

Bleacher Report: "NHL Trade Rumors: Latest Buzz on Carey Price, Canadiens, Sabres"